Philosophy"
We care about the best quality, we hire the best specialists and provide the best customer service. This approach allowed us to grow and create awesome team that is passionate about everything we do.
Traditional Thai Massage (Massage Thaï Traditionnel)
What is Traditional Thai Massage? Traditional Thai massage is an ancient healing practice that requires a touch more active participation than other types of massage. Thanks to yoga-like stretching elements, Thai massage is sometimes referred to as lazy person's yoga. Guided by the massage therapist, you are encouraged to manoeuvre your limbs into different positions similar to yoga, in order to benefit from deep muscle compression, joint mobilisation and acupressure. Thai massage uses gentle to strong pressure and stretching techniques to relax the whole body. Thai massage therapists will use their hands, knees, legs, and even their feet to mobilise you into a series of yoga-like poses. In contrast to the gentle kneading characteristic of an everyday massage, Thai massage also tends to employ stretching, pulling, and rocking techniques to relieve tension and enhance flexibility
Health benefits for Traditional Thai Massage:
Aids deep relaxation

Improved cardiovascular health

Stress relief

Improved quality of sleep

Headache relief

Reduced muscle tension

Improved athletic performance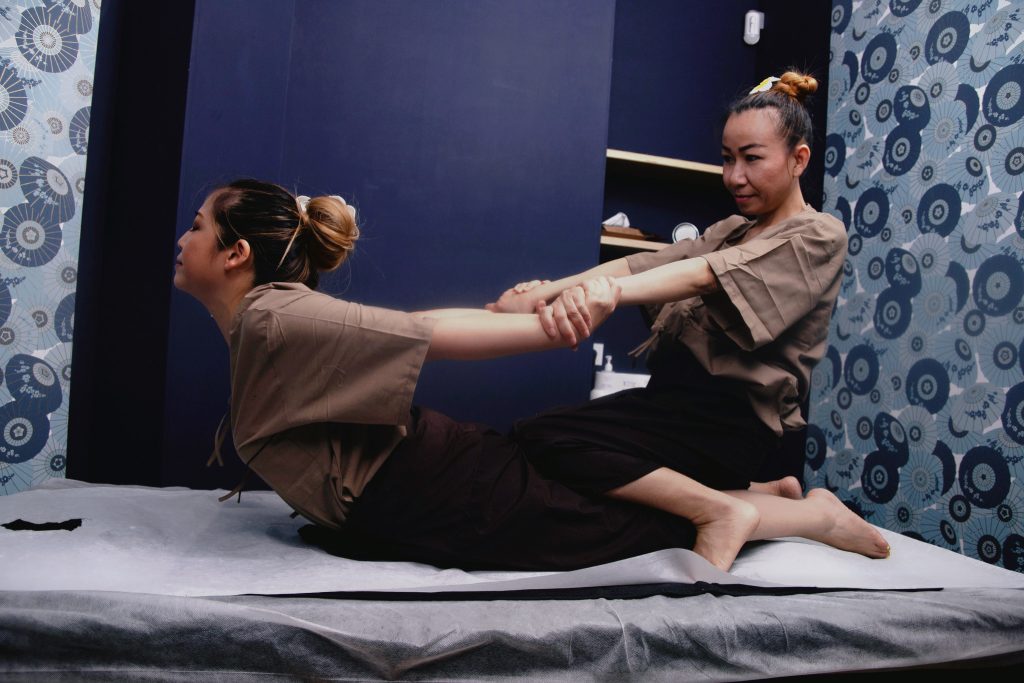 Thai Hot Oil Massage (Massage aux Huiles Chaudes)
What is Thai Hot Oil Massage? Thai hot oil massage connects techniques of acupressure and ayurvedic philosophy of massage. Strengthen immunological and nervous system and accelerate excess water elimination by stimulation of transpire. Thai oil massage removes toxins, boost up skin pert and brings very deep relaxation. Thai massage therapist uses the whole body, palms, fingers, elbows, arms make various pressing and stretching techniques, focus on relaxing tired body at the same time. Aroma oils used by us should be absorbed completely before end of massage, so you don't need to be concerned about griming your clothes. Because of oils nutritious effects, we recommend to don't wash your skin for next few hours.
Health benefits for Thai Hot Oil Massage:
Deep relaxation

Helps with depression

Improves lymphatic and circulatory system

Removes toxins from body

Nurturing skin